Snowdonia is a beautiful region to visit for a holiday, offering everything from scenic walks in the mountains to exciting, adventure activities like white water rafting, mountain biking, and even surfing! Here you'll find lush, green forests, and 14 peaks within the rugged, wild countryside of Snowdonia National Park.
There's a wide range of excellent attractions in Snowdonia, and plenty of choice for accommodation. From cosy little guesthouses to elegant hotels, you'll be sure to find the perfect place to stay. Here's our list of the best Snowdonia things to do during your visit:
The Best Things To Do in Snowdonia
Here's your rundown of Snowdonia's best-rated tourist attractions. If you're looking for something to do in Snowdonia, take your pick from this list of great tourist attractions for sunny and rainy days:
Climb Snowdon
Climbing Mount Snowdon in the stunning National countryside is one of the most iconic of things to do while you're visiting the region. If you're feeling adventurous, you can tackle the highest mountain in all of Wales and England. Mount Snowdon rises to the height of 1085m above sea level and it takes several hours to climb to the summit.
Car parks are dotted around the bottom of Snowdon, and it costs around £5 to park for the day. There's a park and ride service which gives you the option of taking a different route down and then hopping on the bus back to your car.
Take your pick from several different routes, ranging from easy trails that are manageable for beginners, to challenging routes that will test your endurance. Make sure you take a good local map, appropriate clothing and footwear, and plenty of water and snacks to keep your energy up. If you're attempting to climb Mount Snowdon for the first time, check out this video (from our climb) loaded with helpful tips and advice.
The Watkin Path
It is the most scenic of the routes and starts off in woodlands before passing waterfalls, ruins of miner's huts, and the old slate quarry. The first half of the path is an easy walk, built to accommodate horse-drawn carriages. After the quarry, it snakes its way up to the ridgeline, before the final ascent to the summit. Some parts of the path are built with pieces of slate, so be sure to wear footwear with proper grip as this can be pretty slippery when wet.
The path was opened in 1892 by then Prime Minister, William Gladstone. As you walk up the path, you pass the Gladstone Rock, commemorating the opening. The path was created by Sir Edward Watkin to allow walkers to climb to the summit of Snowdon from the existing quarry path.
It has since been used as a training ground for soldiers and mountaineers, including those who took part in the WWII D-day landings and for the 1935 Everest expedition. The first successful ascent to the world's highest peak, with none other than our own Sir Edmund Hillary – a Cultured Kiwi for sure.
Start/Finish: Pont Bethania Car Park, Nant Gwyant, off the A498 (SH 627 507). Parking is pay and display (loose change required) but there are a few spots along the main road back toward Beddgelert that you could park up on.
5-6 hours (8mi / 13kms) will get you there and back. There is a cafe on the top that is open 8:30am – 4:00pm, but it was crowded, with big queues for the food and bathrooms – so if possible take a packed lunch.
Make sure you check snowdon weather before getting started.
Whichever way you to choose to go, you'll be rewarded with unbeatable views out over North Wales and the Irish Channel. When you reach the summit, you can take a look around Hafod Eryri, which holds the claim of being the highest visitor centre in the UK. You'll find a stunning outlook point inside the centre, sheltered from the elements, where you can rest and take in the spectacular beauty around you.
There are a shop and cafe where you can get refreshments. Check out the displays to find out more about the mountain you just climbed. The best time to visit is during the week, as the Visitor Centre can become very crowded and busy at the weekend. Before you set out, check the National Park website for up-to-date safety advice.
Ride the Snowdon Mountain Railway
If you don't fancy walking up Mount Snowdon, you'll be pleased to hear that there is another option: You can ride the historic Snowdon Mountain Railway for a relaxing, scenic route to the top.
The Snowdon Mountain Railway dates back to 1896 and has offered jaw-dropping views out over the surrounding peaks ever since. You'll travel gently up at around 5 miles an hour, passing through the stations of Hebron, Halfway, and Clogwyn before you reach the summit.
For an unforgettable experience, buy tickets for one of the Heritage Steam trains. You can get cheaper tickets if you book in advance, and check the website before you visit, as the trains can be cancelled at times due to bad weather.
Take a Walk in Ogwen Valley
Ogwen Valley is the location of some of the most impressive geological beauty you can see in the UK. Take the circular Llyn Ogwen walk to really see it for yourself. You won't have to tackle any mountains on this walk, although you may have to clamber over a few boulders, so dress appropriately! It's worth it, though, for the spectacular views of the Glydereau and Tryfan.
It's said that the lake is the final resting place of the famed sword Excalibur, after King Arthur's knight, Bedwyr Bedrynant, threw it into the waters. Whether you believe the legends or not, it's a fittingly majestic setting for the story!
Visit Bardsey Island
Bardsey Island is a little island located off the Llŷn Peninsula, home to a tiny population and also the tallest lighthouse to be found in the UK. One of the best tourist attractions in Snowdonia, Bardsey Island is definitely worth a visit. You can wander around the 6th-century monastery ruins or chance upon an ancient Neolithic circle.
Enjoy the calm and tranquillity of the rugged scenery, and see how many of the 310 local bird species you can spot, from puffins to herons, oystercatchers, and manx shearwaters. If you keep your eyes peeled, you could even see dolphins and seals off the coast.
Where to stay in Snowdonia? Beddgelert!
If you're wondering where to stay in Snowdonia, the answer is Beddgelert. It is a quaint little Welsh village, and the perfect setting-off place for many walks and climbs in the area. If you're looking for things to do, it's worth visiting the village itself. One of the top-rated tourist locations, it's a traditional Welsh village through and through. A good base for activities such as walking, climbing, fishing, cycling, watersports, and unsurprisingly – photography.
There are many cosy guesthouses and B&B's offering accommodation in Beddgelert, and if you book in for a long weekend here, you'll be guaranteed a truly Welsh experience. Bistro Antiques BnB Approx £70 / night. Includes breakfast served between 8:30 am and 9:15 am. Currently for sale (if you're in the market for a BnB in Wales).
If you don't have time to stay in Beddgelert, consider stopping for lunch. While we were out and about doing other things during the day, Hebog cafe came highly recommended. Also, there is an excellent walk past all the copper mines and down the stream to Pont Aberglaslyn that could be explored.
Or if you are in need of rainy day activity, you could stop by the Sygun Copper Mine to get a glimpse into 19th-century ore extraction and processing and see massive formations of stalactites (holding on tight) and stalagmites (pushing up with all their might).
Descend into the Llechwedd Slate Caverns
Want to step back in time and discover what life was like for a slate miner? At the Llechwedd Slate Caverns in Blaenau Ffestiniog, you can descend 500 feet into this underground world.
You'll travel down the steepest mining cable railway in all of Europe, explore 10 underground caverns and discover an underground lake. This is one of the best-rated tourist attractions, especially if you're looking for something to do on a rainy day!
Take the Speedy RibRide on the Menai Strait
If you live life in the fast zone, check out the RibRide boat trips. You can choose from the Velocity boat trip, which will take you under the Menai Bridge at 'the speed of scream'.
Otherwise, select the more sedate Adventure RibRide trips, which will show you the gorgeous local nature and attractions from a different viewpoint.
Look Around the National Slate Museum
The National Slate Museum in Llanberis is a fascinating (and free) place to visit. It's rated as one of the best local attractions, where you can find out all about the history of the slate industry in a vivid and interactive way. As you walk through the museum, you'll see the original Victorian workshops and machinery.
Check out the immense waterwheel on display, measuring 50 feet in diameter – it's the largest working waterwheel that exists in Britain. Once you've soaked up all the facts, head over to the cafe, which gets great reviews too.
Visit the Picture-Postcard-Perfect Town of Portmeirion
Sold as one of the top 10 attractions in Northern Wales is the Portmeirion village in Gwynedd. A "private village resort on the coast of Snowdonia", Portmeirion was designed and built by British architect, Sir Clough Williams-Ellis between 1925 and 1975. While said to be built in a variety of architectural styles, the village largely draws on Williams-Ellis's love for the Italian fishing village, Portofino. The village is now owned by a charitable trust and is run as a hotel, but day tickets can be bought to visit the village and its surrounding woodland gardens for £8 for adults (£7 if bought online in advance), children are free.
Having a 2-course lunch (not including sandwiches and light bites) at the nearby Castell Deudraeth Brasserie will get you free entry to the village on the same day. Lunch is from 12-2pm daily (until 2:30 pm in the summer months) and is served in a conservatory of floor to ceiling glass windows looking out onto the lawn and gardens. The Castell is also a functioning hotel. Or if you prefer, there are a number of cafes inside the village itself.
Visitors to the village can take one of the complimentary 20 minute tours or a free train passing through the Gwyllt woods. We opted to do the coastal walk through to the nearby beach and back past a small Japanese garden to the village centre.
The village is open all year round from 9:30am to 5:30pm, and until 7:30pm in the summer months between 1 April and 31 October.
Visit the Charming Town of Betws-y-Coed
betws-y-coed is sometimes referred to as the gateway to Snowdonia. The town itself is a delight to visit, with lovely little shops to browse in and an excellent selection of cafes and restaurants for when you get peckish.
Once you've explored the town, there's lots more to do and see locally, from the enchanting gorge known as the Fairy Glen or FFos Anoddun, to Ty Hyll, the 'Ugly House'. Despite the name, this house is anything but ugly. It dates back to the 15th century and rumour has it that it was once a hideaway for thieves and robbers.
Go Green at the Centre for Alternative Technology
You'll be inspired by the interactive displays and the latest innovations in green technology at the Centre for Alternative Technology. Whether you're already a devoted eco-warrior or you need a little gentle encouragement, the electric vehicles, organic garden, and eco-house will be sure to grab your attention.
If you're visiting Wales with kids, don't miss the fun and informative family activities that run during the school holidays.
Surf the Waves at Dolgarrog
You don't normally think of surfing when you think of Wales, but Surf Snowdonia is determined to change that. On a man-made reservoir in the middle of the Conwyn Valley, you can catch waves up to 2 metres high! You'll never before have surfed surrounded by lush forests, with mountains silhouetted against the sky.
Everyone from beginners to pros can surf at Surf Snowdonia: there are specially created zones with differing size waves, so you don't need to fret. Sign up for a lesson or two at the surf school, or just hire some gear and you're ready to hit the waves! Here's one surf location where you won't have to worry about the local weather conditions: you're guaranteed amazing waves, every day.
Explore Caernarfon Castle
Are you a history buff? Visit Caernafon Castle to explore this impressive World Heritage site, complete with towering, polygonal towers and colour-coded stones. Standing out over the water, it's a majestic sight, particularly when it's lit up at night.
You'll also find the Royal Welch Fusiliers Museum within one of the castle towers. Included in the cost of your castle visit, you can learn all about the oldest infantry in Wales and see a range of uniforms, medals, and more on display.
Discover the Conwy Falls
The Conwy Falls Forest Park is the perfect place for a refreshing walk and a picnic if the sun is shining. The park is open 24 hours, and you can access it by paying £1 per person at the turnstile entrance.
Stroll through the ancient woodland glades to the delightful waterfalls and gorges. If you're feeling indulgent, treat yourself to a delicious afternoon tea at the nearby cafe after.
Bike Through the Coed Y Brenin Forest Park
Snowdonia National Park has beautiful woodland areas and mountain forests, making it the ideal setting for an energetic bike ride. The Coed Y Brenin Forest Park is the first mountain bike centre in the UK, with 8 different cycle trails to choose from.
Anyone from complete beginners to pros can enjoy a bike ride here, with trails suitable for families. You'll also find bike hire, showers, toilets, and a Visitor Centre here. Why not pop into the cafe after your bike ride for coffee and a cake or a tasty hot meal to refresh yourself?
Go Sailing on Bala Lake
Bala Lake, the largest lake in Wales at four miles long, is the perfect spot for canoeing, kayaking, or sailing. For thrill-seekers looking to do something adventurous, you can try out sailing, powerboating, windsurfing, raft-building, and more with the experienced team at Bala Adventure and Watersports Centre.
If you prefer a more sedate pastime, why not try your hand at fishing the lake waters? There are even swimming areas if you fancy braving the chilly water for a quick dip!
Keep your eye out for the legendary local monster, Teggie, who is said to dwell in the depths of Lake Bala. The lake is found at the foot of the Berwyn and Aran mountains. If you visit the historic market town of Bala itself, make sure you book a table at the Michelin-starred local restaurant, Tyddyn Llan.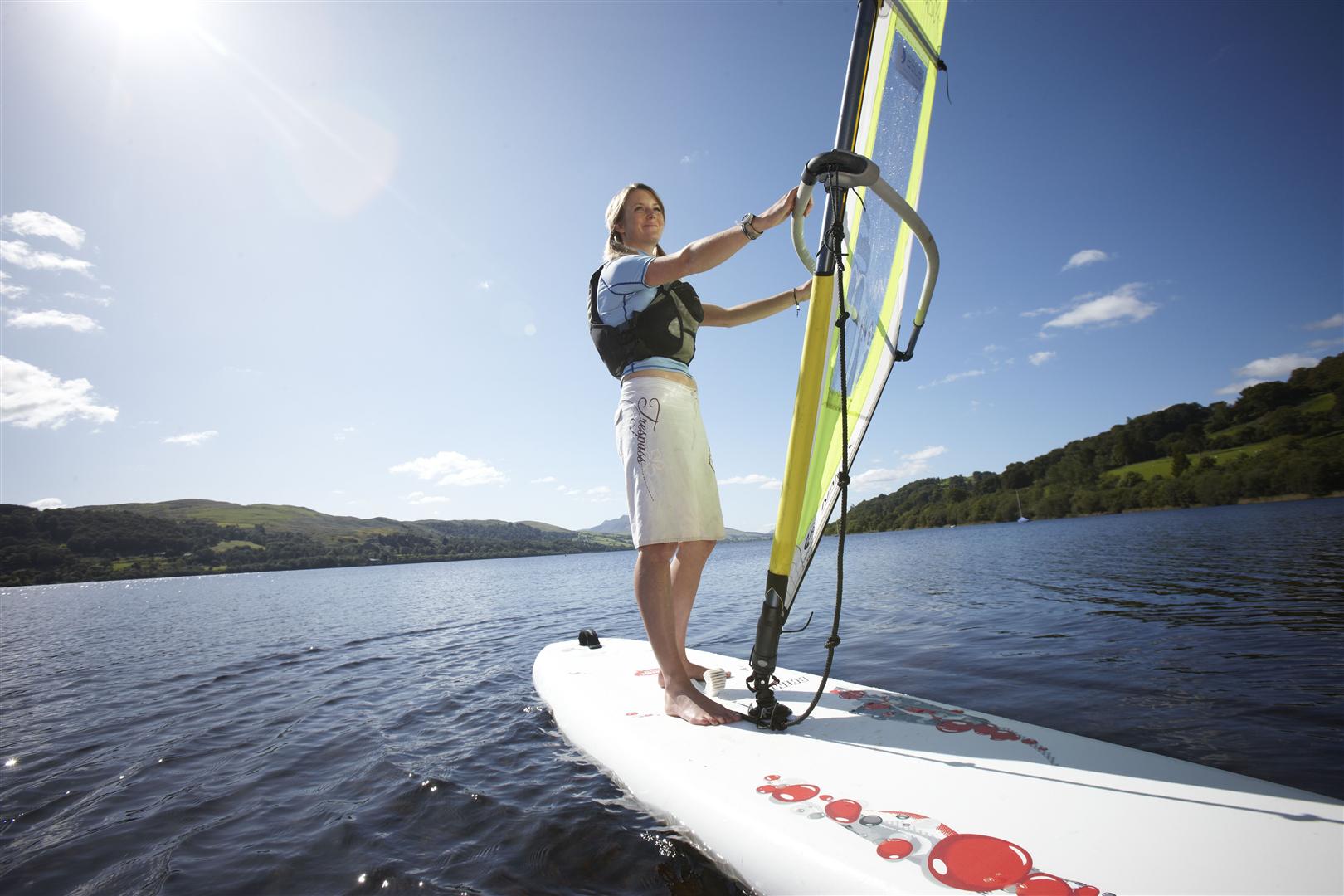 Hike the Cwm Idwal Circular Walk
Hiking through the picturesque countryside is one of the best ways to slow down and really take in the views on offer. There are walks for all abilities, but we recommend the Cwm Idwal walk. It's a 3-mile circular walk that takes around 3 hours in total, but you will be rewarded with spectacular views of the rugged mountains and unique rock formations around Lake Idwal.
Start out from Ogden Cottage Ranger Base, where you'll find toilets and a shop where you can buy snacks and hot drinks. If you're short on time, or you have young children with you, just take the 20-minute walk up to the lake instead for a short but enjoyable walk.
Get Your Adrenaline Flowing at Zip World Velocity 2
Adrenaline junkies take note! Snowdonia is home to the fastest zip line in the whole world, so make sure you don't miss it. If you're brave enough to take the plunge, you'll fly through the air at speeds of more than 100 miles per hour!
So if you're looking for exciting things to experience while you're in Snowdonia, head on over to Zip World in Penrhyn Quarry. You'll speed over the sparkling blue quarry lake, and then take the Quarry Tour if you want to discover the history of this unique location. Two lines run parallel, so you can share the experience with a friend or family member. Zip World is a great destination if you want a truly extraordinary thing to do while you're in Snowdonia.
Not feeling so brave? Settle down instead with a tasty bite to eat in the trendy Blondin Restaurant as you watch people fly by on the zip line! Check out this video to see for yourself whether you're up to the challenge!
Wrap Up
As you can see, Snowdonia has so much to offer, whether you prefer to stroll around quaint little towns or get your adrenaline going with some daredevil activities. The scenic countryside is unparalleled for hiking, biking, or just taking in the views. Make sure you check out some of these top rated tourist attractions during your stay in Snowdonia.
Thanks so much for making it this far. If you liked this article then please consider sharing it with a friend. If you think we've missed something, then please add it in the comments below and we'll be sure to add it to the list. Check out our travel blog for more great articles.
New Zealand travel photographer based in London, UK. He was taking photos from a very young age in the backcountry of New Zealand before moving abroad. Since doing so he has taken workshops and tried to help get as many people into this art as possible. Featured in NZ Herald, Stuff.co.nz and many photography publications it's safe to say he loves his photography!