Last Updated on
If you're having a change of heart and are looking for the best mirrorless camera for travel then I highly recommend checking out that article. Also, here at Cultured Kiwi, we are huge believers in analogue photography. We have just completed a full Canon F1 review and a review of the best 35mm film on the market, check them out. But, for now, we'll continue with the best 35mm camera for beginners.
Note: This post contains affiliate links and I will be compensated if you make a purchase after clicking on my links.
Technology is moving so fast that it is a difficult (and costly) exercise to keep up with all the latest gear. A lot of photographers fall folly to the belief that new gear will make them a better photographer. Often times some of the most expensive camera gear in the world sits in closets, rarely making it out to the local park.
Our world is becoming more and more digital, barely an hour of the day goes by without some form of interaction with a screen. Shooting film is a great way for you to take photos and disconnect from this digital realm. It has begun to make again in popularity over the past years, so much so that Kodak has begun making Ektachrome again! As a result, the second-hand film camera market is in full swing.
The cheapest new full-frame digital camera will run you around $2000, a used Canon 5D (full frame digital camera released in 2005) will cost you around $500. If you shoot film, you are able to get the same full frame quality (including a few lenses too!) for around $100. While you do have to buy film and develop it, the skills and techniques that you'll learn throughout this process will make you a much more efficient and thoughtful photographer in the long run.
But with so many options available where is the best place to start?
This article is broken into two parts:
Part 1: The best 35mm film cameras (SLR, Rangefinder and Medium Format)
Part 2: How to buy a film camera (without getting ripped off!)
If you like this article please consider picking up one a cultured kiwi vintage leather camera straps from EBAY or ETSY. They are custom designed and work with almost all film cameras.
If you can't do this then please consider sharing the article on social media to help bring attention to the website. I want to keep creating quality content for everyone. The more people that I can help the better. This small act really does mean a lot to me.
We have since done an article teaching how you can develop your own film at home. This helps you get a much faster turn around time from shooting film to seeing results.
So enough with this banter, let's get on with the show!
In order for you to find the perfect camera for you, we have broken this section into the different types of bodies that you can choose from.
Best Film Cameras
These are the best film cameras that we recommend on the market today. Most of these cameras (with multiple lenses) can be had on eBay or Amazon (used) for under £100 or $150.
Best Budget Film Camera: Canon AE-1
The Canon AE-1 was an unprecedented success from the moment it was released in 1976. There are no aperture priority mode, shutter priority or auto modes. You need to select your aperture setting, then look at the meter (in the viewfinder) and select the correct shutter speed. In terms of lens availability, there are thousands of Canon FD mount lenses available and therefore you are able to pick up a full focal range for a relatively humble sum. Overall, it is a well-made and well-regarded 35mm film SLR that is probably the best budget camera out there.
Canon AE-1 35mm Film Camera w/ 50mm 1:1.8 Lens
35mm SLR (Single-Lens-Reflex) camera with electronically controlled AE (Automatic Exposure) and focal plane shutter.
Canon FD series interchangeable lenses with full aperture metering and AE coupling. Canon FL series with stopped-down metering.
Standard lenses for the Canon AE are Canon FD 55mm f/1.2 S.S.C, Canon FD 50mm f/1.4 S.S.C, Canon FD 50mm f/1.8 S.C.
Canon Breech-Lock mount, Canon FD, FL and R lenses can be used. The viewfinder is fixed eye-level pentaprism with a field of view that is 93.5% vertical and 96% horizontal coverage of the actual picture
Viewfinder information includes aperture scale with meter needle and stopped-down metering which also serves as a battery charge level check mark.
Best Budget SLR: Pentax K1000
You cannot look past the Pentax K1000. This camera has long been a favourite for photography classes and beginners. It has all manual settings and everything you need to get started. You can find them on eBay/Amazon or any used camera store. Pentax has a huge library of lenses for you to chose from.
Pentax K1000 Manual Focus SLR Film Camera with Pentax 50mm Lens
The Pentax K1000 35mm SLR is one of photography's greatest, most popular and longest-lived cameras.
This Pentax film camera is completely mechanical and needs no battery to run, however, you must purchase an A76 cell battery to run the light meter.
Unlike other SLR and DSLR cameras, the K1000 is simple and has little to no learning curve. There is three shooting controls: aperture, shutter speed and focus. You set the film speed when you load it.
An extraordinary simple camera that forces you to think about your picture instead of your camera. As a result, it's recommended by most photography teachers, instructors, and professors to be used in their classes.
The Pentax K1000 is so brilliant that you never need to turn the meter or camera on or off: both are always on for instant picture taking
Best SLR: Nikon FE/FM
The Nikon FM and FE were introduced in the late 1970s as lightweight, lower cost alternatives to the flagship Nikon F2. The bigger and heavier F2 gives you removable viewfinders and very high build quality. There is only one primary difference between the two: FM's are mechanical with manual exposure and FE's are electronic with automatic exposure control. Most AF and manual focus lenses work on all these cameras, except the "G" series ones. See our review of the Nikon FM2 here.
Pick up a Nikon FM on eBay here
Nikon FM 2 Black Camera Body
The FM2/n has a long-standing reputation for reliability and durability
It has an extremely strong body of copper silumin aluminum
he FM2's film transport consists of high-strength hardened metal gears and moving parts, mounted on clusters of ball bearings
Best Compact SLR: Olympus OM-1
My personal favourite is the Olympus OM-1, in fact, I made a whole video about it. It is an excellent camera and is extremely small and light. It is an all-mechanical manual SLR with somewhat of a cult following. The through-the-lens (TTL) exposure meter controls a needle visible in the viewfinder which allows you to dial in the exposure. The shutter speed dial is located around the lens mount, which allows photographers to keep the camera at the eye between shots more easily than other SLRs with the dial located on the top plate.
Best Electronic Film SLR: Canon EOS A2 / A2E
At the time of its creation, The Canon EOS A2 (1992) was placed at the top of Canon's EOS camera line. This camera is larger than a lot of the others in this list but also arguably the most advanced. It has 2 dials with which you can adjust the settings for both aperture and shutter speed. If you are already a Canon DSLR shooter then you will no doubt already have a few lenses lying around. The great news here is that this camera uses the Canon EF lens mount. So all your new lenses will work with this camera. One word of caution is that it requires 2 strange batteries, the 2CR5 6V batteries which can be hard to come by.
Canon EOS - A2 Autofocus SLR 35mm Film Camera
Camera type: SLR, Lens Mount Canon EF
Focus Type: Autofocus, Manual Focus, Shutter Speed 30 to 1/8000 sec
Built in flash, eye controlled focusing
Dimensions D = 2.91 H = 4.76 W = 6.06 inches
There are a lot of pros and con's with using a rangefinder, especially when compared to an SLR camera but they do have some advantages. Rangefinder cameras use a secondary focusing window through which you can line up and take your shot.
This means that you can generally focus your shot quicker, but what you see through the viewfinder isn't exactly what you see through the lens (TTL). Great when taking candid street photography shots, but terrible if you're trying to line up the perfect composition.
Further, as your head is not directly behind the camera (usually off to one side or the other) you don't come across as the creepy photographer as you do with an SLR and a zoom lens. Another reason these are perfect for street photography.

Best Film Rangefinder: Contax G1 (or Contax G2)
If I was to pick a rangefinder to begin with it would absolutely be the Contax G1. This camera is coated in Titanium and is widely accepted as being one of the most advanced electronic rangefinders on the market. That was until the Contax G2 came around! These Contax cameras came complete with a Carl Zeiss lens, so the optics are second to none. They were designed to compete with Leica and Voigtlander lenses and have proven to do so. The G1 is on the market at around 5x less than the G2 so if you're in the market for a deal check it out.
G2 Camera Body
Electronic 35mm film (24x36mm) rangefinder camera.
Electronic autofocus.
Motorized advance and rewind.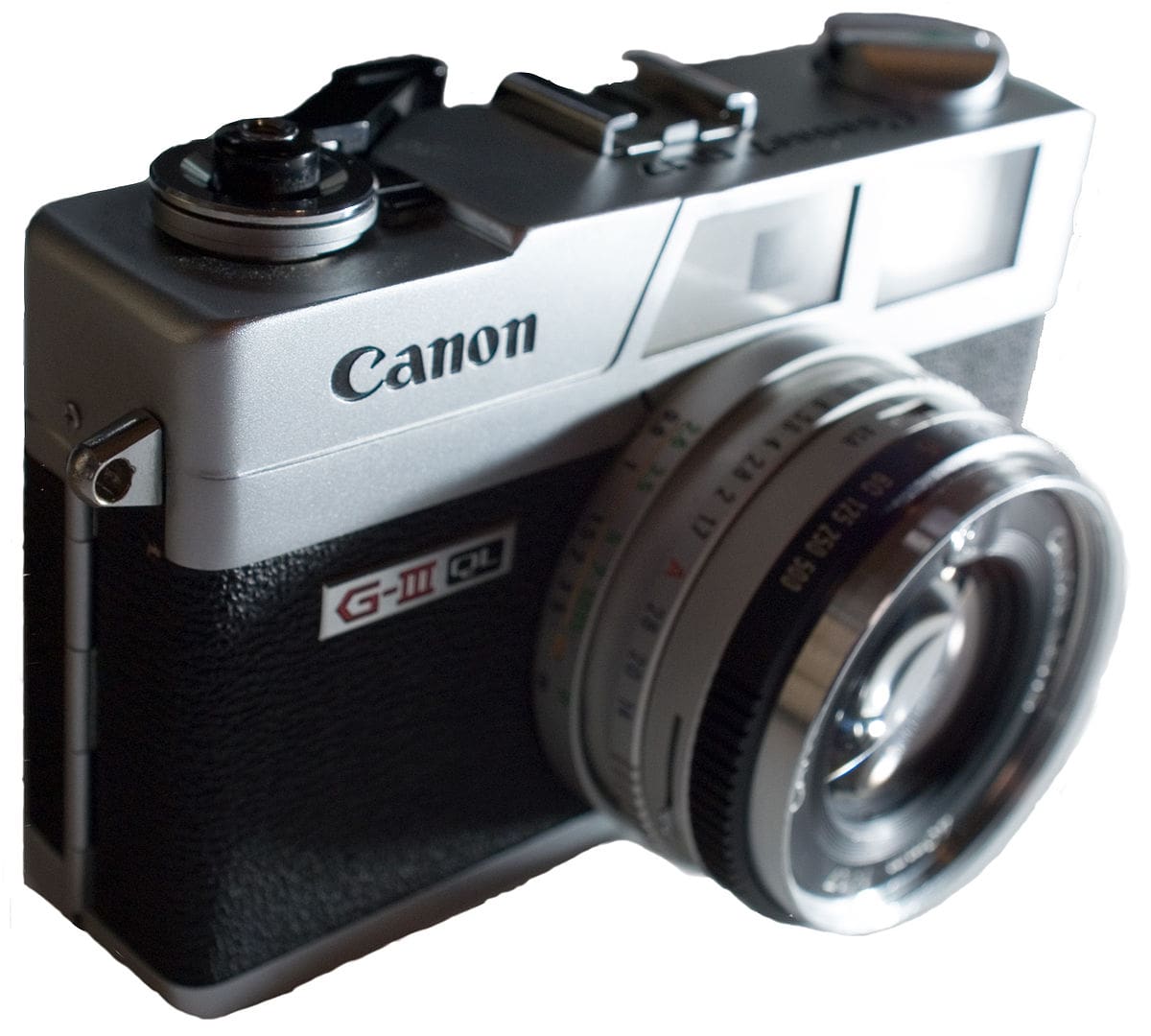 Best Street Film Camera: Canon Canonet G-III
No list of film rangefinders would be complete without mentioning the Canonet G-III. It was the best selling 35mm rangefinder of all time. It has a fixed mount lens and full manual control. But, further to this it has shutter priority and auto mode making it great for beginners. The QL stands for quick loading and the 17 refers to the fixed mount 40mm f1.7 lens that is attached. The photos come out beautiful and they have had nothing but exceptional reviews about the image quality.
Canon Canonet QL17 GIII
Introduced in 1972
Supports Shutter Priority and fully manual shooting modes
Third generation of the Canonet line of range finder cameras
Features a 40mm f/1.7 lens
Battery required
If you are interested in getting into medium format photography. It is a little more expensive but the images produced are absolutely amazing!

Best Budget Twin Lens Reflex: Yashica MAT 124 TLR
There are a number of Twin Lens Reflex cameras on the market, but the Yashica MAT 124 is by far the best value for money. It basically is a copy of a Rolleiflex camera almost right down to the controls, but not the cost. It can take either 120 or 220 medium format film and has all manual settings. If you would like to try to shoot square format film, or scratch that medium format itch, this is your camera.

Best Budget Medium Format: Kiev 88
As we move through our knockoff cameras we inevitably arrive at the Kiev 88. It is a Ukrainian copy of a Hasselblad camera which retail around the $600 mark. This camera can be had with a lens for around $250. They have a bit of a bad reputation for being poorly made, and easily broken but they produce some amazing results. Like the other medium format cameras, they are a little heavy but the quality of the shots is worth the pain.
Best Medium Format: Mamiya RB67
This is a medium format system. It records images on 120 format roll. Each frame is roughly 6cm by 7cm. This is 5 times the imaging area of a full frame DSLR. The resulting images look different, especially portraiture with longish lenses. The Mamiya RB67 is a beast of a camera at 2.5kg without any lenses on it. It was mostly used for studio photography but if you want to carry it into the wild you are sure to capture some very unique photographs!
Mamiya RB-67 Pro SD Camera Body with Waist Level Focusing Hood
Medium format SLR camera designed for professional use
6x7 format for ultimate image quality, maximum enlargement and cropping capability
Compatible with all RB67 system lenses. Has a larger internal diameter allows use of APO/L lenses
Fully modular system: interchangeable focus screens, finders, backs, lenses
Revolving back mechanism rotates from vertical to horizontal effortlessly
What should I look for when buying a film camera?
Before purchasing a new film camera you should consider the following:
How much do you want to spend?
When buying anything this should always be the first factor you consider. You can always spend a little bit more money for a little bit more functionality, but this doesn't directly translate to a better product for you. Compare prices and be realistic about what you want and how much it should cost. Something that seems too good to be true is usually too good to be true.
Don't forget to consider the resale value of your potential camera system. Sometimes buying cheaper gear will mean you end up with something you can't sell if you change your mind. Buying camera gear with a high resale value can result in you trying out an amazing system with the ability to sell it again and not lose any money. Look at the Leica cameras if you want to go for the top end, with the best chance of resale. For your first film camera, I suggest you keep reading and look at something a little more friendly on the wallet.
What type of film camera do you want?
Are you looking for an SLR or a rangefinder? Perhaps you would like to get into medium format photography? You need to begin by deciding on what type of photography you'll be doing with your new (old) camera. As film cameras are generally pretty cheap you can pick up a rangefinder for street photography or an SLR for landscape photography. There are so many options around the $100-200 range that you can find something that best suits your need.
What functions do you want?
Do you want a fully manual camera or would you like some of the exposure settings calculated for you? I prefer manual cameras as these have less of a reliance on batteries or technology. Old camera batteries are notoriously difficult to find! The one function I would try to keep an eye out for is an inbuilt meter. This negates the need for a lot of guesswork with exposure settings or fiddling with an exposure app on your smartphone.
How much do accessories cost?
I am an advocate for the one camera one lens policy as much as possible. This will help you quickly improve your photography by forcing you to move around to take in the scene. You then get creative by forcing you down low as opposed to standing up and zooming in. Sometimes when you change perspective the image becomes vastly different. Starting with one film camera and one lens to ensure you get more consistent results over time.
In saying this, it is important to know what accessories cost. Are there many lenses available? If so: how much do they cost? It all basically boils down to doing your research. Learn everything about the camera and the lens mount system that you can prior to purchasing.
What condition is the camera in?
The number one killer with any camera or lens is mould. Keep an eye out for any mould and if you see it in the lens elements then do not buy it. Check the overall physical condition for signs that it has been dropped.
Make sure that all of the dials and switches work properly. Take a "photo". Open and close the film loading mechanism to check that. Lastly, I like to give it a light shaking to see if there are any obviously bad sounding broken parts inside.
So that is the list of important considerations. If you are not in a store buying the camera (buying online) then send some of these questions to the seller. Make sure that they are reputable and have a history of selling cameras to satisfied customers. Just do your research before pressing buy now!
Frequently Asked Questions (FAQ)
Is the Pentax k1000 a good camera?
The Pentax K1000 is a good camera, especially for a beginner. It is fully mechanical, fully manual 35mm SLR camera that was quite common. This means there are a lot of lenses and accessories. It was popular for students and beginner photographers.
What is the best vintage film camera?
The best vintage film camera depends on what you are intending on shooting with that camera. A rangefinder is great for street photography, a large format is good for shooting models. See our full guide to see which camera will best suit your need.
Which film camera is the best?
To find out which film camera is the best for you, first, you must decide exactly what you are intending to shoot and what is your budget. Try one of these!
Do professional photographers still use film?
Yes. A number of professional photographers use film today. While there are relatively few reasons to use film over digital, most have long term projects that use a particular film stock.
Are 35mm film cameras still being made?
Only a few 35mm film cameras are still being made and are able to be purchased new. The Nikon FM-10 is one of these cameras. But, there are plenty of used cameras in excellent condition that are able to be purchased.
Are film cameras making a comeback?
Film cameras are making a comeback. The backlash from millennials has caused a resurgence in the number of film manufacturers producing 35mm and medium format film stock for vintage cameras.
Are film cameras better than digital?
Film cameras are better than digital for some reasons, but in most cases, they are not. If you are learning photography, film cameras can be a great way to force yourself to learn the basics of exposure accurately.
Wrap Up
So those are the best film cameras that any beginner should try to get their hands on if they have the chance. If you have any suggestions for your recommended beginner film cameras drop them into the comments below and we can build a database of great film cameras.
So pick yourself up one of the cameras above and get a few rolls of film under your belt. There is nothing like the excitement of getting a roll back from the lab and holding the fruits of your labour. Trust me you will love it. Remember #filmisnotdead!! Happy shooting everyone.
Ben – Cultured Kiwi